You've moved into a larger house with extra space or your teen has moved away – and you now have an extra room in the house with no idea of what to do with it. Sadly, spare rooms frequently turn into empty spaces or dumping grounds for things with nowhere else to go.
They can also be challenging to use because they are often the smallest rooms in the house. However, you can make the most of your extra space and construct a room that works for everyone with some forward planning and creative design. Here are some examples from spare rooms that our design team has transformed:
1 – Guest Room
Making a lovely guest bedroom out of the extra space is perhaps the most common thing our clients do.
If you frequently have friends and relatives stay with you, having a room designated for guests makes sense since it relieves the stress of having to swap rooms and pull out sofa beds at the last minute. Your extra room will always be available and prepared.
The ideal guest room fuses comfort with design to create a hotel-like setting where friends and family can unwind. At the same time, it must be adaptable enough to accommodate guests of various ages.
Here's an example from a warm and cosy guest room that we furnished for one of our clients.
Because we had some extra space by the window in this guest room, we decided to bring it to full use by adding a small desk and chair – this can now be used both as a dressing table by guests or as an office table.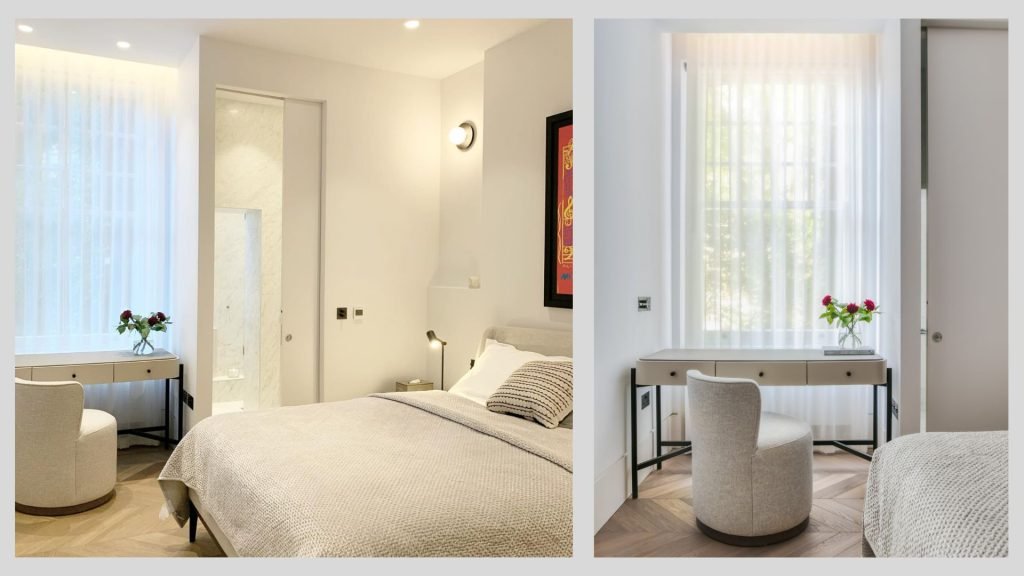 2 – An Extra Dining Room
Our senior interior designer, Benjamin Ibanez, recently finished working on a stunning project where the client had a spare room in the garage with an oven and grill:
We decided to add an outdoor dining table and chairs to the room so it could be used to its full potential. To make things convenient, we went with a movable dining table so it could be moved outdoors if required, along with the lightweight chairs.
The clean-lined, metallic furniture also blended really well with the overall industrial aesthetics of the room. The client loved the concept, especially how beautiful the white and grey furniture looked against this flooring.
A set-up like this can serve many purposes – an extra kitchen, extra dining space for al-fresco meals or even a semi-outdoor home office.
3 – Game Room
Game rooms are obviously fun to use, but our team also finds them increibly fun to design!
Here's a recent project that Benjamin worked on, where the client wanted the spare room to be converted into a game room.
Since the room was big enough, we decided to convert half of it into a sitting area with modular seating and a bespoke rug that we designed specifically for this space.
The other half of the room was dedicated to the snooker table and the foosball table.
4 – Home Office
Any home can benefit from having an office space, but those who have suddenly found themselves working from home will find it to be a particularly suitable use for a spare room.
You may store items like your computer, printer, documents, and invoices that frequently take up the entire house in a dedicated home office.
If you have teens living in your home, giving them a quiet space to study is also an excellent idea.
We love this grand and luxurious home office that Benjamin recently furnished for a client's spare room.
Since the room was big enough, we were able to add a built-in storage unit and some statement-making armchairs.
5 – Walk-In Wardrobe
Building a customised, bespoke walk-in closet is our favourite use of a spare room – everyone loves a good walk-in wardrobe and converting your spare room into a walk-in will be one of the best decisions you ever take.
You don't need a huge room to construct a walk-in wardrobe, as seen in the example below, where we converted a very small and narrow space into a walk-in wardrobe with lots of mirrors and a vanity table. The mirrors combined with the white colour chosen for the wardrobe made this space seem so much bigger than it actually was.
How you decide to use your spare room depends on your own needs and preferences.
If you're confused between two ideas, you can create a multipurpose room like how we combined the guest room above with a mini home office – if the room is big enough, you could even use a bookcase or a wardrobe as a room divider.
We've been working on the most amazing interior design and luxury furniture projects in the UK for more than four decades now, and in these good years, we have done thousands of spare room projects for our clients, including theatre rooms, gyms, reading rooms, bar rooms and whatnot.
So for us, it all comes down to what you want and we will make it possible – if you need any help in putting together ideas or selecting the right furniture for your spare room, get in touch, and our expert interior designers will be happy to assist.