2 Sofa Colours to Avoid in 2023 and What to Choose Instead
Picking out the perfect sofa colour for your living area is one of the most significant choices you will make when it comes to home décor. Not only will it determine the overall mood of your room but, as the main focal point, it will also dictate how easily you'll be able to incorporate other design elements without them clashing or looking out of place.
FCI London design expert, Cristina Chirila, gives us her top advice when it comes to which two colours to avoid and what are great choices in 2023.
Things to consider when choosing a colour for your sofa
"While it definitely boils down to personal preference, picking out the right colour for your sofa takes some consideration", warns Cristina. "After all, it's an investment piece that you don't replace on a regular basis, so you'll need to be happy with your final decision for years to come".
Usually, the need for a new sofa falls into two categories:
1. You're designing a room from scratch:
In this scenario it's likely that you will be redesigning every aspect of your sitting room from the colour you put on your walls to which rugs, curtains and accessories you want. If this is the case, exploring a wide range of different options for your sofa is far easier because whatever you choose will become the foundation of your overall aesthetics, allowing you to build on your central theme.
2. You're adding a new sofa to an existing space:
If your sitting room is already fully decorated but you need a new sofa, you'll have to select a colour that suits the space. This is a far more limiting endeavour and usually means that you should be looking at more neutral options.
2 Sofa colours to avoid and why:
"There are two sofa colours that I tend to steer away from", says Cristina. "Not because I don't like them, but because they pose certain issues that are hard to get around from both a practical and a professional standpoint". Here they are:
White
While white is a classic that adds a sense of airiness and sophistication to any room, it's a nightmare if you have a busy lifestyle that involves children and pets. High traffic areas are not built for pale, neutral shades unless you find something in a durable fabric that has been treated with stain-resistant properties. But even then, it's a risky choice.
"It may look pristine when you first get it, but after a couple of dinner parties where wine is involved, you'll regret your decision", is Cristina's opinion. "I would suggest that you opt for a smart shade of grey instead. It is timeless, goes with everything and will look classy without the stress".
Bold patterns
"Patterned sofa upholstery might sound like a fun thing to introduce to your aesthetics, but you will soon discover that it takes over your space, making it difficult to match up other décor elements, especially if you like to change things up on a regular basis", advises Cristina.
If you want to introduce something with a motif, it would be better to include it in a bespoke rug from a supplier like Knot & Loop or find a curtain fabric that adds the flair you're looking for. You can then pick out a solid sofa colour that will serve you for years to come.
Sustainable sofa colours that are trending in 2023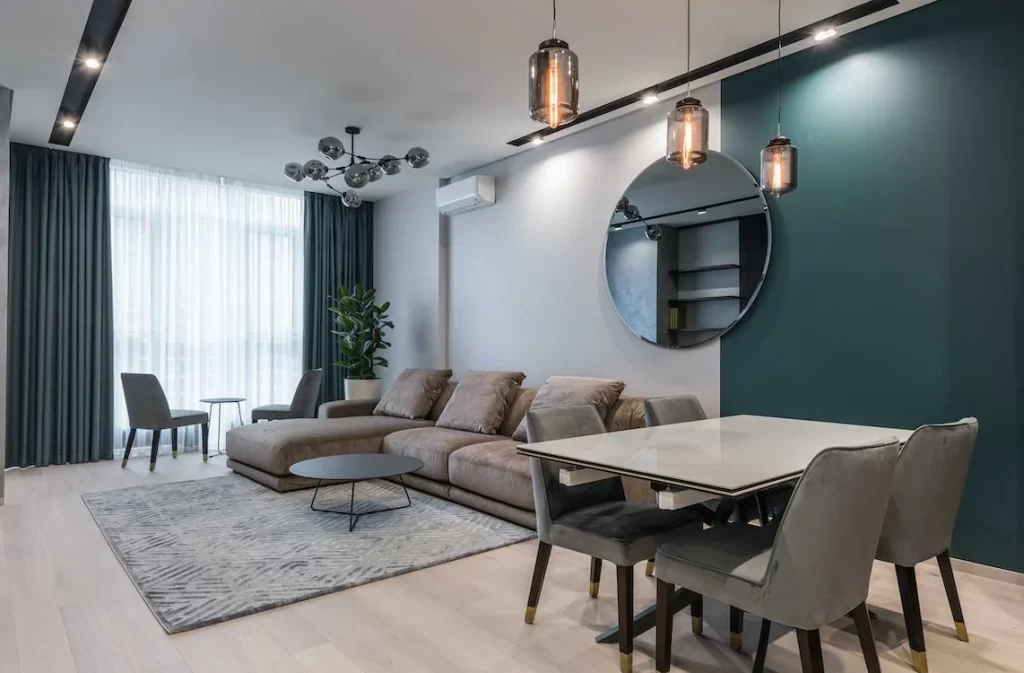 2023 brings an exciting new range of dynamic sofa colours that are sure to add pizzazz to your spaces. These include shades of purple, deep reds, bright oranges and anything green. However, when picking out something that's uber fashionable, be mindful that design trends do come and go with every season, so if you decide on something that's currently in vogue, you will have to live with it long after the fad has subsided.
"My advice is to find a sofa colour that is sustainable", says Cristina. "Monochromatic shades in warm tones like cream, taupe and beige will always be in style and are certain to go with almost anything, so choose wisely and you are sure to find happiness in the entertainment hub of your home".
If you need more inspiration before making a final decision, read our article on the sofa colour trends for 2023.
In conclusion
At FCI London, we have a team of experienced designers who are at the ready seven days a week to give you advice and help you find your perfect sofa. Call us today or pop into our showroom for a glass of bubbly and a guided tour.