How To Furnish a Living Room Window Space
A space for relaxation, connecting with family and entertaining, living rooms are one of the most exciting spaces to furnish. The living room window space is an often overlooked décor opportunity, especially if you have a flair for beautiful design.
Layout is everything and will depend on the dimensions of your room, the people who will be using it and your lifestyle. Thinking ahead about the expansion of your family, how you intend to host guests and your own needs and expectations is key and will enable you to plan and futureproof your space flawlessly.
Picking a style, colour palette and lighting are all part and parcel of the process and, when it comes to options in these areas, the world is your oyster.
However, one of the most difficult things to work around is window space and figuring out how to integrate it into your overall design. Natural light is a gift and provides an effortless way to brighten and elevate your room, so blocking the view with cumbersome pieces is never a good idea.
You also have to consider the orientation of any furniture choices because looking directly into the glare is uncomfortable, and elegantly upholstered sofas could potentially fade from exposure.
So how do you tackle these dilemmas and create breathtaking aesthetics without wasting an inch of your usable living space? Our senior FCI London designer, Christina Chirila, is helping you out by sharing her top front-of-window décor ideas.
A large piece of art to create a focal point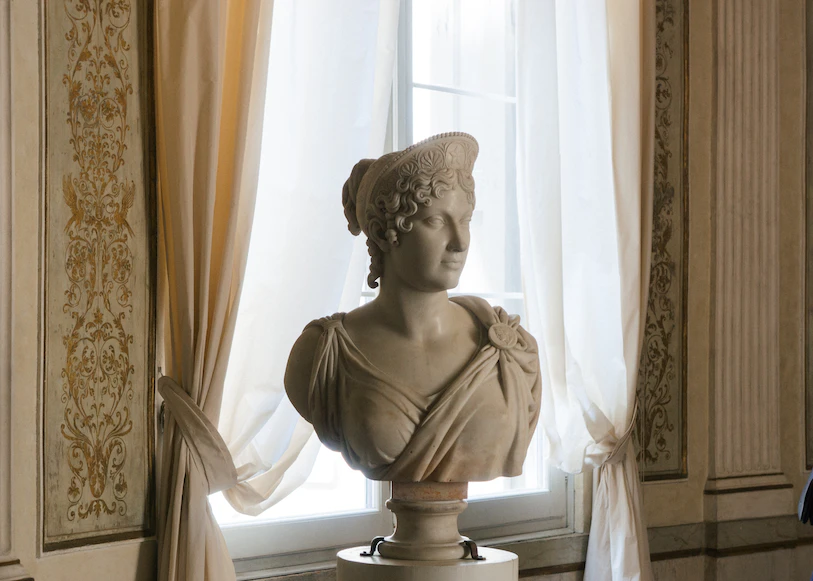 While hanging paintings above eye level is never a good idea, taking advantage of window space for a freestanding artwork placement like a large statue or carving is an excellent opportunity to create a striking and well-illuminated focal point in the room.
If your window does not reach the floor and you have a smaller sculpture or beautiful vase, consider using the windowsill as its resting point, but if you do have a more expansive area to work with, place it on a stylish side table or bespoke chest.
Remember to face it inwards – it should be enjoyed by the occupants of the room rather than those ambling around outside.
A comfortable sofa or chair for relaxing
Window spaces are tricky when it comes to main furniture items, but using a low-profile sofa to complete your set is a possibility as long as it fits the space without looking bulky. Or opt for an elegant bench or a pair of ottomans instead.
However, if your room is more expansive and the window space is a free zone, turn it into a comfortable reading nook with a single chair or chaise longue. And add a side table if you have room for one – you'll need something to house your cup of tea and it will create symmetry.
Whatever route you go, be cognizant of your upholstery choices and make sure you find something that will withstand the sunlight. But if your comfy leather recliner is a must-have, add blinds or a folding screen for extra protection during the midday heat.
A side table for placing drinks or snacks on
If your windows are floor-to-ceiling and you don't want to block them up with a sofa, use the space for a charming side table or two.
Not only will they be useful when serving guests drinks and hors d'oeuvres, but if you choose something with an intricate base, it will add to the overall artistic flair and elegance of your room.
A floor lamp to provide additional lighting
The darlings of the design world, contemporary floor lamps are a favoured way to fill awkward spaces and give height and depth to your aesthetics. Available in many forms and configurations, they provide both a sculptural element to any room and additional ambient or task lighting that will add depth and create focus.
Find one with an interesting shade or one that arcs gracefully into your sitting area, filling your window space with a definitively creative statement.
A rug to define the space and add comfort
Rugs are renowned for being the one accessory piece that ties your room together, creates specific zones and adds warmth and comfort to your living area.
So if you have a space in front of your window but can't squeeze any furniture into it, use a rug as a connective element that creates cohesion and fills the gap. Choose something patterned for visual interest and make sure that it compliments your colour palette.
You could also extend your main rug into the window area to create a flow between your furnishings and the outdoors. As with all rug placements, make sure that it is around 30cm away from your walls and centre it properly.
To find out more, read our tips on how to pick a rug that best suits you and your tastes.
Plants or flowers to add life and colour
Biophilic design has become one of the key elements that define modern interiors, adding wellness, calm and a connection to nature to your aesthetics.
So find a couple of gorgeous planters and flank your windows with luscious leafy indoor trees or some beautiful bloomers that will bring colour, life and a touch of drama to your space.
In Conclusion
They may make you quake in your boots but when it comes to interior design, living room windows are easier to manage than you might think.
So tap into our expertise and let's get your home looking fabulous by contacting our FCI London décor team today.
We're overflowing with excellent ideas and the furniture to match so are, most definitely, up for the challenge.