How to choose curtains for your living room
When it comes to our living rooms, every detail of your décor should be perfect, including how you furnish your windows. Dressing them with beautiful curtains, especially if they are large or a focal point, can radically change the look and feel of your space.
However, picking out the perfect set can be fraught with uncertainties like how long they should be, what styles are appropriate or which materials will best help capitalise on any natural light, so our top FCI London consultant, Cristian Chirila, has come to the rescue with this in-depth guide.
"It's about creating interiors that exude style, elegance and cohesivity", she explains. "And curtains are key because they frame the entire room".
What are the benefits of having living room curtains?
Our living rooms are one of the most frequented areas of our homes. "It's the space in which we relax, gather and entertain, so absolutely everything is on show", says Cristina. "But aside from having aesthetic value, curtains need to be functional". Here are some of their benefits:
They provide privacy: Curtains are ideal for safeguarding our homes and secluding us from the outside world, allowing us to retreat into a sanctuary where prying eyes cannot find us.
They regulate sunlight and temperature: If you live in a cooler climate, curtains will help to regulate the internal temperature of your room by minimising heat loss. They are also an excellent way of mitigating excessive glare and protecting fine upholstery materials from fading.
They create a sense of space: Hanging curtains slightly wider and longer than a small window will help it to look bigger, therefore giving the room a more expansive feel.
They enhance architectural features: If your home has a beautiful pressed or vaulted ceiling, curtains will help to accentuate it by drawing your eye upwards.
They control dust: Curtains are a wonderful way of stopping dust from getting into your room – cleaning them on a regular basis is therefore very important.
They provide a canvas for colour: If your walls, floors and sofas are monochromatic, curtains are perfect for injecting colour, texture and patterns into your space, making them an important style element in your overall design.
What to consider before you shop for new curtains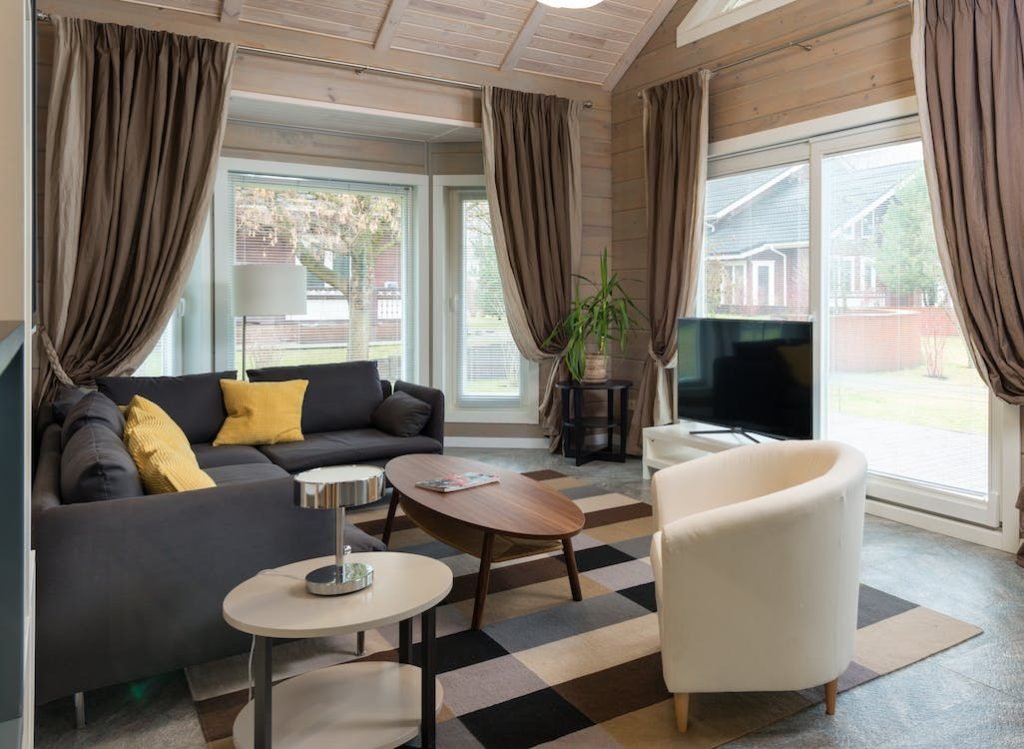 "Think about the purpose of your curtains to get clarity on exactly what you're looking for", advises Cristina. Here are some factors to consider before rushing out on a shopping spree:
Are your curtains going to be decorative or functional? If they're for aesthetic purposes only, you'll have free rein when choosing the material, because they'll be no need to regulate incoming light.
Do you want a fabric that will make your room look light and airy or are you going to go for blackout curtains so that you can spend more time watching TV?
Do you have multiple windows and need to keep the cost of your curtains at a minimum or will you be splurging out on one focal point? Remember that the more windows you have, the more attention you need to pay to creating an identical aesthetic throughout.
What is your budget? It's important to know how much you can spend before you start your search as it will give you better parameters to work with. Once you've set a limit, spend all of it so that you get the best quality curtaining possible.
How to calculate the length of your curtains
Calculating the length of your curtains is fundamental to the visual effect you are looking for. "Too long and they could make your room look cluttered and untidy, too short and they will throw everything off-kilter by visually lowering the ceiling height", is Cristina's take on the topic.
Step one is to measure up. Here's how to do it:
Use a steel tape measure to ensure optimal accuracy.
Measure the width from the outside edges of the window and then add 20cm on each side to allow for brackets and finials. If you're placing your curtains within a recess, you won't need to include the extra centimetres.
When measuring the drop or length of your curtains, you'll first need to decide how you want them to fall.
For pleated curtains, start your calculations from the small rings that the hooks go into. If you're buying a tab top or eyelet curtains, begin your measurements from the top of the pole.
If you don't have a pole or track in place, allow for an extra 15cm above the top of your window to accommodate this.
If you want your curtains to fall to your windowsill, measure to 1cm above this point.
If you want your curtains to fall below your windowsill, measure to 15cm below them.
If you want them to drop to the ground, measure up until 1,25cm above the floor. Interior designers call this length a "hover". However, if you want them slightly lower, often referred to as a "break" effect, add on another 2,5cm. This creates a high-end look that is neither too formal nor overly relaxed.
You can extend your curtain length beyond this point into a "puddle" by adding on an extra 15cm. This is an effective style if you're using a lighter, softer material and want to create a more romantic or dramatic feel.
How to choose a fabric for your curtains
"Picking out a fabric for your curtains is a delecate balance between finding a style that suits your aesthetics and ensuring that they meet the brief in terms of functionality", says Cristina.
If you need something that will control the light and regulate your room temperature, go for a thick, heavy material like velvet. But if you want to infuse your room with a sense of airiness, choose a thin, sheer fabric such as polyester.
Here are four of the most popular options and their advantages:
1. Linen:
An excellent in-betweener if you want the best of both worlds, linen is beautiful, natural and lightweight. It has the ability to diffuse harsh light and make it appear gentle and warm. Perfect for living rooms, it is durable and long-lasting if well-maintained, but carries a price tag to match.
2. Cotton:
Popular amongst design aficionados and home renovators alike, cotton comes in many different colours, patterns and styles and suits both contemporary and traditional aesthetics. Despite its affordability, it has the ability to make any room look refined and is easy to clean and care for.
3. Lace:
Old-world and charmingly elegant, lace curtains are normally white and can be machine or hand made from polyester, cotton or linen. They come in an array of intricate patterns in many different styles and are perfect if you want something light and bright. Prone to picking up dust and dirt, they need to be washed on a regular basis and they do tend to tear easily.
4. Silk:
Luxurious and sophisticated, silk curtains add a sense of opulence to any room, but they are easily sun-damaged which means that you should pair them with matching blinds wherever possible. Weighty and durable, they hang beautifully but they are extremely expensive and cleaning them is a delicate process.
How to pick a colour for your curtains
Cristina believes that "When it comes to curtaining, matching the style of your living room is everything". So, before you consider colour, think about whether you're leaning towards a contemporary feel or would prefer something classic, beachy or Cottagecore. You should also ask yourself the following:
Is there enough light in the room or is it too bright? You should pick a curtain colour that will balance these scenarios and either make your room look lighter or darker.
Will you be changing your colour palette often? If so, pick a neutral curtain colour so that it's future proof.
Are you aiming for a monochrome look, or do you want lots of contrasts? Colour and patterns can set the mood and influence your overall experience of the room, so if you want something bold, make sure you can live with it long-term.
Do you want your curtains to be front and forward or would you prefer them to blend into the background? Vivid colours will create a design statement while paler shades will blend into the window space, allowing your view to become a feature.
If you need more inspiration, read our article on interior design colour predictions for 2023.
3 Classy ideas for styling curtains in your living room
Using a complimentary colour theme
If you have a dark sofa, pick curtains in a complementary colour to soften the aesthetics and bring in a more feminine element. This will create a sense of balance and lessen the intensity of heavier shades. Layer this look with netting to help diffuse the incoming light and choose a rug and lampshades with a common colour thread. Our award-winning Coulins residential home illustrates this perfectly.
Using a monochromatic colour theme
A monochromatic theme in neutral colours, especially white, will infuse your room with light and make it feel both elegant and relaxed. Pick out a complementary colour for accent pieces or accessories to create a touch of contrast. This look works extremely well with natural wooden floors as seen in our Redington Road project.
Using an analogous colour theme
Our Valley Road project shows that analogous or similar colours in a room will create a gentle, sophisticated aesthetic if neutral shades are used. Layering different hues add visual interest and prevents the space from looking monotonous or bland. However, if you opt for a similar theme in darker tones like navy or charcoal your space will look bold and striking.
In conclusion
Picking out curtains for your living room is one of the most important aspects of any refurbishment project and can make or break the overall aesthetics of your room.
For expert advice, call our dynamic design team today or pop into our stunning NW10 showroom for a chat and a glass of bubbly.