9 Cheap & Easy Fixes For Eyesores Around Your Home
We all have parts of our home that we wish we could hide. Design mistakes or damages around the home don't always require a big budget underlay to repair. We have listed the most common eyesores most homeowners complain about and the surprisingly easy fixes to transform them!
1. Dated Hardware
Unless you moved into a new build, your house probably has outdated hardware on the kitchen, bathroom and closet cupboards. That small piece of detail can affect your design aesthetic, preventing you from achieving a cohesive look.
Whether you are in a rental unit or your own home, replacing your hardware is a quick and affordable fix. Remember to buy sets that correspond to the distance between the screw holes of the original ones.
You can find various sleek modern designs sold in packs of up to fifteen for ridiculously low prices.
2. Boring/Ugly Flooring
When your home has dated ugly flooring, it can really throw the whole space out of balance. Replacing tiles is costly. Fortunately, there are stylish easy fixes to this problem.
You can either use peel and stick vinyl tiles or opt for an even quicker method of using floor stickers. Both these solutions will not lift – once on the ground, they can withstand heavy traffic and moisture in all parts of the home.
We recommend using the vinyl tiles if you are laying over a textured floor, then the stickers if you have a flat even surface. Order samples so you can test out different patterns before you commit to a style.
3. Harsh Lighting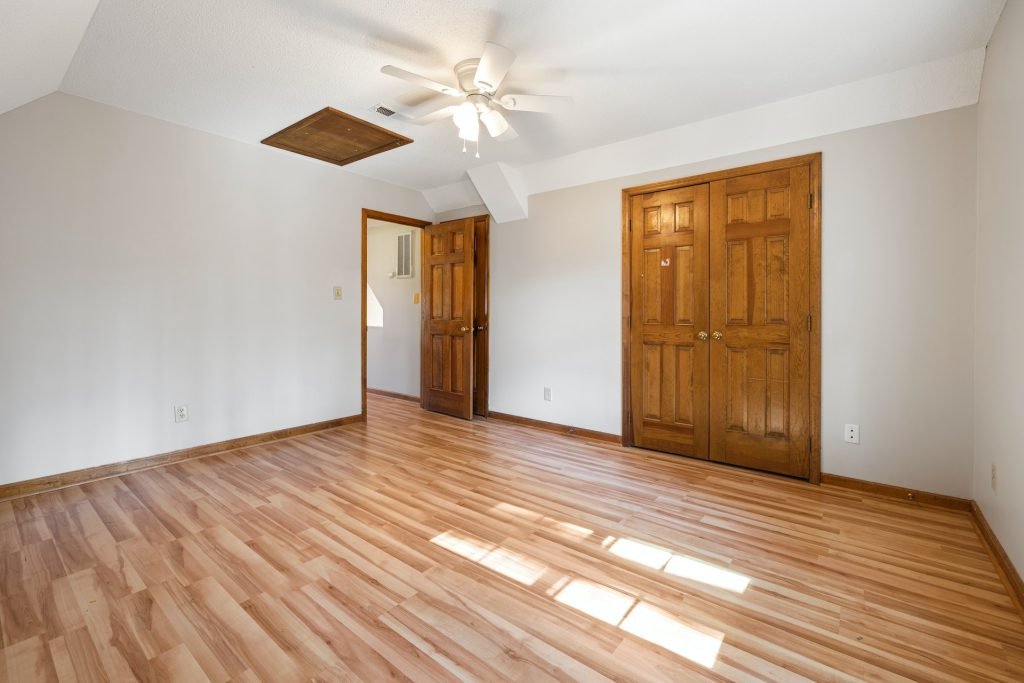 Any indoor lighting in your home that is 4000 kelvin and above is too harsh for your home. Those flourescent lights give your home a cold look that is reminiscent of the dentist's room. It's not flattering.
Instead, switch these bulbs out for smart ones that have adjustable temperature controls. You ideally want to keep your lights at 2700 kelvin which gives off the perfect ambiance and warm glow.
You can turn the brightness up for areas that light the garage.
4. Out of Scale Rugs
High quality rugs are expensive. As a result, homeowners will buy the smallest size they can afford without paying attention to how it will fit in their living rooms.
Rugs that are too small for your space distort the scale of the room. Ideally, the front feet of every piece of furniture around your rug should be able to sit on its surface.
To solve this without getting rid of your precious small rug, is to simply buy a larger, cheaper natural fibre rug. Jute or sisal options will complement most designs.
5. Builder-Grade Lighting
The average home will come with basic light finishes such as the infamous boob lights. These mass produced lights are standing in the way of your home's beauty – no matter how current your furniture is.
There are thousands of fixtures that you can shop for to suit every budget. Some models will come with battery operated bulbs which means you wont need to do any wiring. Find lighting that complements your aesthetic. Whether industrial, minimalist, maximalist or farm house, there's something for everyone.
6. Messy Bathroom Towels
Towel storage may not seem important, but it can elevate the look and feel of your bathroom.
This room is meant to be as clean and serene as possible, so any mess does a disservice to it. We love using baskets of varying sizes for face, hand and bath towels. Simply roll up your sheets and neatly stack them onto each other in the baskets.
Other easy fixes for smaller spaces include the multipurpose towel rack chair or a trendy ladder storage unit.
7. Dull Mulch
A home's exterior can bring down its overall appeal and value. If you have spread mulch around your garden, you will notice that the colour fades with time.
Avoid the resultant dull look by using easy fixes like mulch sprays. Available in different colours, these colourants are an easy-to-use renewal solution that give a fresh colour to your yard all year round. Best of all, most versions like the Petra Tools Black Mulch Dye are safe for pets, plants and wildlife.
8. Tissue Boxes
As the temperatures drop, cold and flu season kicks in and homes will soon be covered in tissue boxes.
Avoid the visual clutter the bright branded boxes can cause by using modern tissue box covers. Find a style you like and stick to it in every room. These easy fixes are available in several textures and colours to suit any home's palette. We love the simplicity of the faux leather designs.
9. Litter boxes
We conclude our list with litter boxes. As much as you love your cat, you don't necessarily enjoy looking at their private bathroom areas.
Good news, we found lovely easy fixes! Disguise this area by using a litter box enclosure/ cover. There is an array of styles to choose from ranging from simple plastic designs to elaborate wooden ones such as the New Age Pet ecoFLEX Habitat. Your cat will love its new space and your home will look more put together with it.
Design That transforms Spaces
At FCI, we believe in the power of interior design to transform spaces. By forging positive spaces that bring genuine happiness to the people who inhabit them, we hope to inspire a community of people to pay it forward.
We've been designing interiors and exteriors in both private and commercial spaces for almost 40 years. Our skilled team can offer you a range of individual services or the full interior design monty. We'll draw up 3D plans for your new kitchen, create a custom colour palette for your walls and floors or simply help you find your perfect sofa match.
In addition to our interior design services, we have a wide range of premium furniture and accessories that can help you elevate your home's interior.
No job is too small and no request is too complicated. We can help you draw your design dream and we'll work closely with you to bring that vision to life.
Get in touch with us and let's chat about your design requirements. You can call or whatsapp us or pop into our London showroom – we're open 7 days a week.