7 Dated Design Trends That Make Your Home Look Cheap
Trends come and go and before you know it, what you once thought was a must-have feature is now an eye-sore. So we've done some digging into dated design trends that make your home look cheap.
When asked about décor mistakes that he sees often, FCI's interior designer, Ricardo Jarjoura, listed these 7 as the easiest to fix.
1. Boob Light Fixtures
A trademark of the mid-20th century, boob lights were once a prominent feature in nearly every home. But we are in 2022 now…If you haven't already, please ditch these tacky, mass-produced features as they are sure to give any space they are in a dated design look.
Shop around for a statement feature or an elegant timeless style. You will be surprised what a big impact you can make just by swapping these unsightly domes for modern designs.
2. Matching Furniture Sets
From the matching sofas to the three-piece bedroom suite, the over-matchy trend is not only old-fashioned but unimaginative.
"I prefer to make a space feel curated by using a mix of textures, colours and patterns that complement each other." FCI Senior Designer Ricardo Jarjoura
If you already have these sets in your home, separate the pieces by spreading them in different rooms across the house.
3. Mass Produced Wall Art
Every year large homeware stores pick a few prints and then produce canvases of these in every shape and size.
Homeowners find themselves failing to resist the cheap price tags on these substandard prints of quotes, flowers or some scenes in nature.
Your walls are better off empty than dressed in this low-budget 'art'. Consider curating your own photography or shopping at antique stores for affordable originals.
4. Wood Ceiling Fans
You can picture it – the red wood-coloured fan with cream-coloured, almost yellow, glass shades. Yes, cringe!
Of all dated design features, ceilings are a telltale sign of a home's age. So, especially if you have plans to sell your home, we strongly recommend getting rid of them.
Apart from just looking awful, the shades cast an unattractive yellow colour over a room. Even with a tight budget, you are sure to find modern designs to suit any aesthetic.
5. Popcorn Ceiling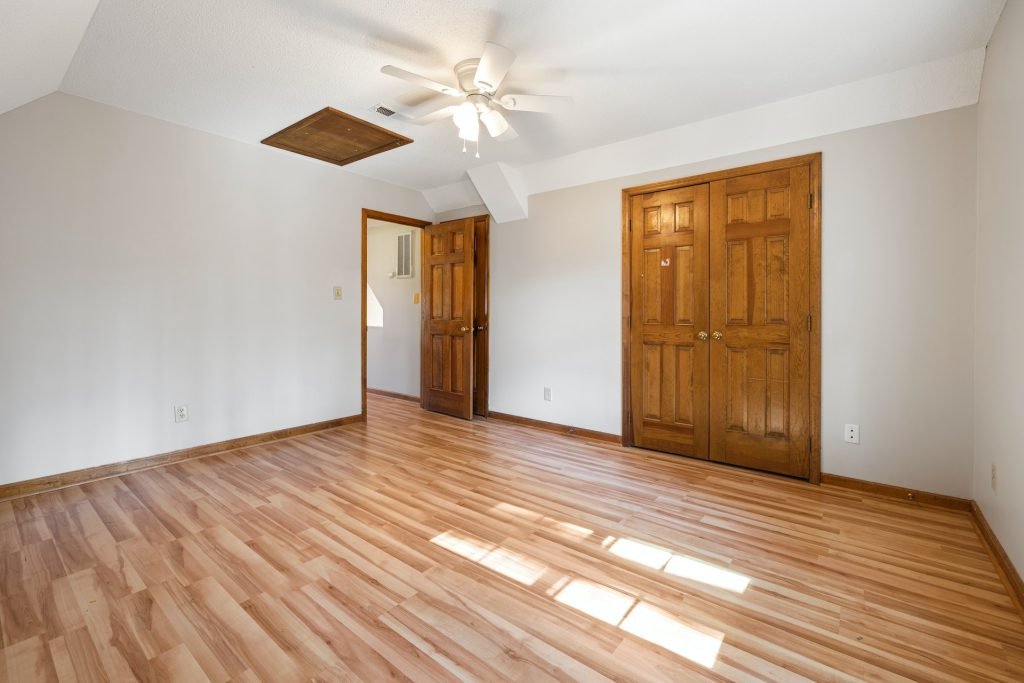 Popcorn ceilings shout, "update me!"
It's true what they say that the effect resembles cottage cheese. This dated finish was supposed to dampen sound and make it easy for builders to hide imperfections. But it just made it harder to clean your ceiling.
"Rather opt for a streamlined, smooth look. When it comes to ceilings, less is more." FCI Senior Designer Ricardo Jarjoura
Just remember that most of these old ceilings may contain asbestos, so it is best to hire a professional to do the upgrade.
6. White Appliances
White appliances are undoubtedly making a comeback. However, the ones that are ageing your home are those bulky old fashioned designs, that are now a creamish yellow from years of wear and tear.
It is impossible to complete a kitchen renovation without replacing these devices with newer models.
Stainless steel is always a safe bet, we don't expect to see this finish go out of style any time soon. If you decide on black, opt for a fingerprint-resistant texture.
7. Outdated Cream Light Switches
One of the most ignored elements, those old cream light switches and wall sockets are dated design elements that you need to part ways with.
It's a quick and inexpensive fix that delivers a significant change. Not only will a fresh set look better, but you can also add convenient features such as charging ports and light dimmers.
If you notice that your switch plates have scratches, smudges or damage, it will only take you about a day or two to change all the units in your house.
Interior Design That Transforms Spaces
At FCI, we believe in the power of interior design to transform spaces. By forging positive spaces that bring genuine happiness to the people who inhabit them, we hope to inspire a community of people to pay it forward.
We've been designing interiors and exteriors in both private and commercial spaces for almost 40 years. Our skilled team can offer you a range of individual services or a full interior design package. We'll draw up 3D plans for your new kitchen, create a custom colour palette for your walls and floors or simply help you find your perfect sofa match.
No job is too small and no request is too complicated. We can help you draw your design dream and we'll work closely with you to bring that vision to life.
In addition to our interior design services, we have a wide range of high-quality furniture and accessories that can help you give your home a fresh look.
Get in touch with us and let's chat about your design requirements. You can call or WhatsApp us or pop into our London showroom – we're open 7 days a week.