How To Create An Accent Wall
An accent wall is a quick and easy option to refresh your interiors. Accent walls are defined as any wall that has a different colour, texture or design than the walls that surround it. There are many ways to make a wall stand out and function as a gorgeous design feature in a room.
We asked one of our senior interior designers, Jessica Codejon Alvarez, for her best tips on how to create an accent wall. Here's what she had to say.
Which wall should be the accent wall?
Jessica says the first step is to choose which wall in a room will be your accent wall.
"Start by considering the dimensions of your room," she explains. "If your room is narrow and long, the best wall to accent will be the short wall furthest from the entrance. This will make the far wall appear closer and will balance the shape of the room, making it appear more square."
"A good rule of thumb is that the best wall to accent is generally the one that you first see when you walk into a room," Jessica says. "You can also choose a wall that is anchored by a large item of furniture such as a bed or a sofa."
There are some walls in a room that shouldn't be accent walls; Jessica highlights why. "If your room is especially small or gets very little natural light, I wouldn't recommend having any accent walls. In these circumstances, an accent wall will make the room appear smaller. It's also best not to paint or decorate a wall that slopes or windows of various sizes. Anything uneven will break up the room instead of tying the walls together for a pleasing aesthetic."
Should you paint an accent wall?
"A painted accent wall that is well thought out can really lift up a room," Jessica says. "Don't be afraid to use bold colours. As long as you understand how colours complement each other, a bright accent wall can infuse a room with so much personality."
Jessica explains that you should consider the colours of the surrounding walls when choosing your shade. "Most accent walls look best when the surrounding walls are in a light to medium shade rather than a darker hue. Ideally, your accent wall colour should be balanced by neutral colours on the other walls. Grey, beige and cream are always good options."
As for what colours you shouldn't use, Jessica says it's all about taste, but there are some useful tips to remember. "It can be difficult to balance a bold accent wall in a bright white room. The contrast looks modern but can feel quite stark and overwhelming. If your room is all white, an accent wall in grey or pastel colours will work better."
Can the ceiling be an accent wall?
Jessica says a resounding yes!
"Your ceiling is the unofficial fifth wall and works well as an accent wall because it's so unexpected. It's also a more subtle way of adding colour to a room as it's not instantly noticeable. Accent ceilings are very on trend right now."
She goes on to explain that accent ceilings, like accent walls, can be painted in any colour, from soft shades to bright bold hues. It depends on your personal preference.
"The great thing about accent ceilings is that they distribute attention evenly across the whole room instead of narrowing the focus to one wall. So if you're looking for a way to tie your room decor together, this could be a better option for you than an accent wall."
Another option is to paint the crown moulding in a different shade to separate the wall colour from the ceiling, creating a chic and elegant look.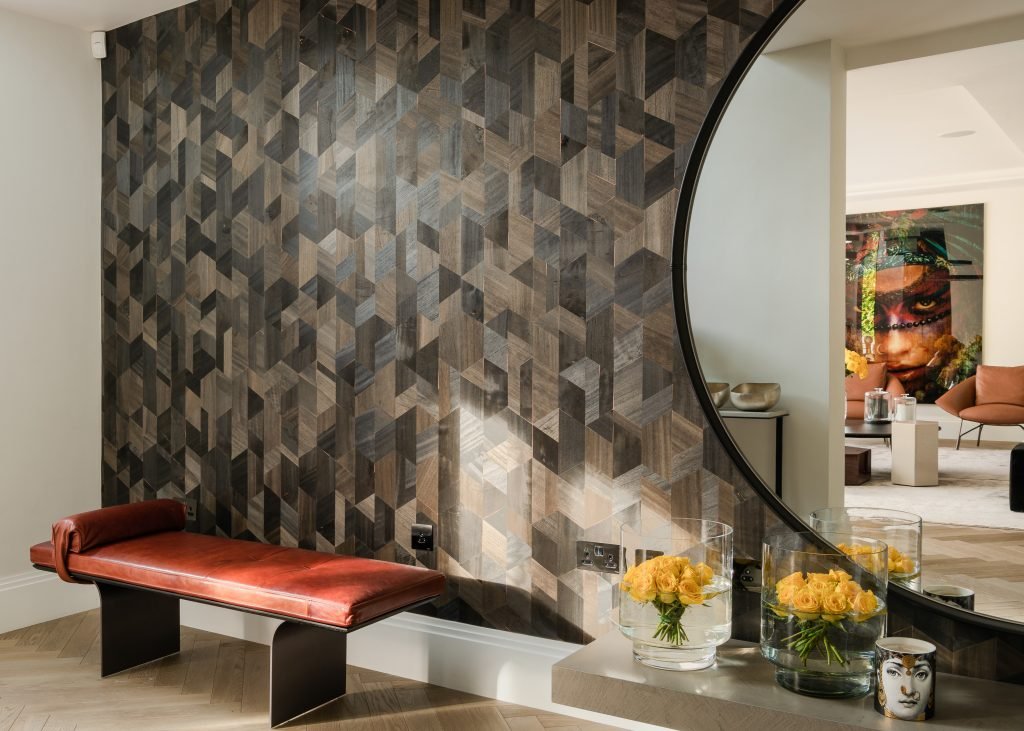 Different types of accent walls
Jessica explains the three different types of accent walls.
"The first is the painted accent wall that we've discussed. It;'s the most common type and can work well in just about any home. The second is the textured accent wall. This is when you cover your wall in textured tiles or stone cladding and it works especially well in modern bathrooms."
"The third type of accent wall is the wallpapered wall. The benefit here is that you get a designer look without the long-term commitment of paint or tiles. And finally, you can also create an accent wall using accessories. Think of a gallery of photos or multiple artworks; even draped fabric can create a unique look that centres the room."
In conclusion
An accent wall is a fabulous way to update the look and feel of a room. Our design team has experience in creating accent walls of every style and can help you figure out the best optionn for your home. Get in touch and chat with us or view our collection of designer wallpapers for inspiration.