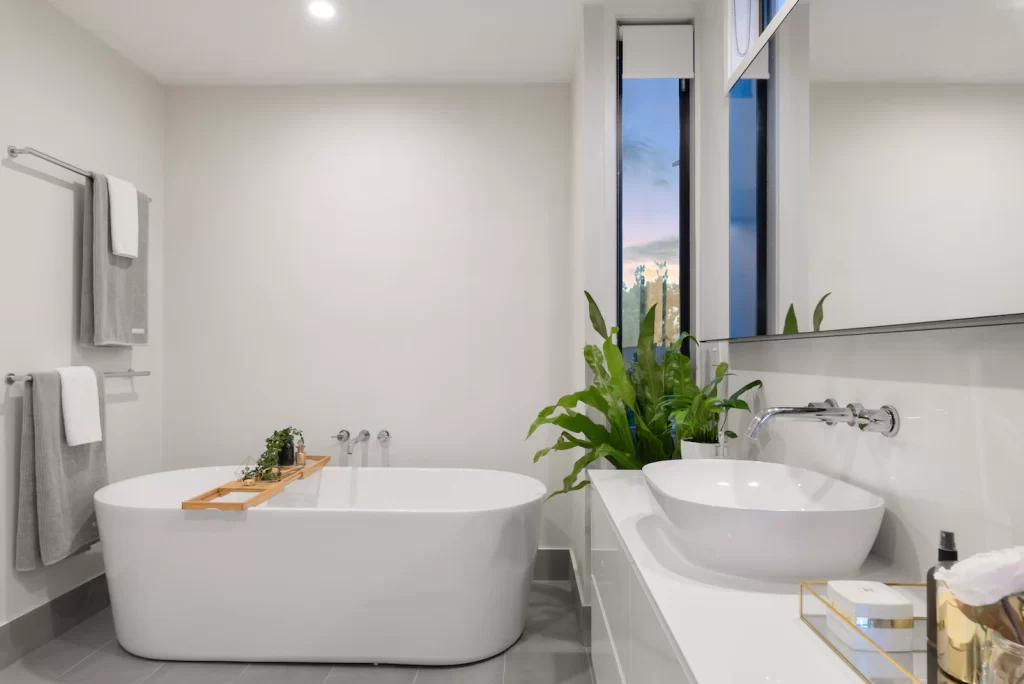 5 Best Ways To Design a Bathroom
From a retail point of view, bathrooms are one of the most important rooms in your home and a definite consideration when it comes to potential buyers.
They are also a very personal space and, right from the planning process, must find a happy medium between functionality, attention to detail, quality, mass appeal and style. There are many ways to design a bathroom.
Designers should be aware from the outset that while meeting the personal needs of each client is key, bending to all the hottest new trends will not result in a space that will stand the test of time.
So instead, our top team suggest that you take a more paired back approach, consider the overall genre, state and value of the property as a whole, and create something that is going to be an asset well into the future.
Here is our guide to the six best ways to design a bathroom.
1. Consider the layout of the bathroom before you begin on the overall design
One of the first things to consider when designing a bathroom is the overall layout and whether you are going to opt for what estate agents call a full bathroom comprising a loo, bathtub, shower and at least one basin or elect to construct something smaller and omit either the shower or the tub.
In some instances, if there is space, full bathrooms can also include a laundry section, but with modern homes these are fast becoming separate entities, beautifully considered and packed with state-of-the-art appliances.
Whatever you choose will most certainly be determined by both the dimensions and purpose of your space and how it fits in with the rest of the home's floorplan.
If the bathroom is a renovation project, another vital thing to consider at this stage of the planning is what fixtures are worthwhile redoing and when. Things like plumbing, a different bathtub and new tiles should only be tackled if you're giving the space an entire makeover. To find out more about what not to do, read our article on bathroom renovations that waste money.
You also need to look at the placement of key components, ensuring that they create a seamless flow. This should include:
Lighting: Make sure that you provide both task lighting for focussed activities like shaving and applying makeup and ambient lighting to set the mood. If you're unsure about how to integrate them, call in a lighting specialist.
Plumbing and electrics: Both of these are installed beneath the surface of your walls and flooring, so need to be properly planned. They will also determine where all the major components such as light fixtures, plug points, bath etc. will go and making a mistake in their positioning will result in some costly corrections further down the line. Consult with a professional team to ensure this doesn't happen.
Underfloor heating: We don't subscribe to underfloor heating, especially with a global emphasis on eco-friendly design, but if you decide to go ahead with some, factor it in from the beginning.
Wet and dry areas: New trends show a move towards separating your wet and dry areas by zoning your shower and bath into the same section of your room. And as far as we're concerned, it's a marvellous idea. So figure out your overall composition and then let the creative juices flow.
Ventilation: As a bathroom is an area that exudes condensation and humidity, ventilation is key. Aside from having an all important open window, look at options like ceiling fans or install a dehumidifier or a through-the-wall exhaust fan. This will make an enormous difference to how sanitary the area stays and will also influence your ensuite bedroom and built in wardrobes which are susceptible to mould.
2. Choose a theme for your bathroom
When considering the myriad of ways to design a bathroom, you know that style is everything. The next phase is to decide whether you're going to go for something rustic, Scandi, wabi-sabi, vintage or traditional.
While the list could go on, it's important that you consider the overall genre of the rest of your house because, while you don't have to have the same colour palette from end to end, your bathroom can't be a wild celebration of eclecticism when the rest of your home is an industrial masterpiece.
You also need to be sure that you can live with the style you choose for years to come. Bathroom renovations are expensive and time consuming, so rest assured, you won't be pulling up bits and pieces of it on a regular basis just because you've changed your mind.
3. Select materials and finishes
Picking out materials and finishes does have a lot to do with your overall style but remember, also, that quality is king. Let's explore some of the key contenders:
Tiles:
When it comes to tile selection, look at factors like durability, slip resistance, hardness and thermal expansion all of which can be properly explained to you by an expert.
You will also have to pay close attention to the decorative aspect of your choices like colour, shape and the material you'd like.
Sculptural tiles add wonderful texture to your aesthetics while large format marble will not only bring timeless sophistication but is sure to last you for the long haul. From granite to terrazzo, there are choices galore, so do some research and make sure that above all, you are happy.
Bathtubs and showers:
Both bathtubs and showers come in a vast range of sizes, colours and configurations and can even be combined.
Have a look at your wet area design and decide whether you are going to opt for a built in bath unit or a standalone. You'll also have to consider different shapes, materials and accessories.
Do you want jacuzzi jets in your tub and thermostatic mixers in your shower or would you rather have something more run of the mill?
Faucets and sinks:
From pedestal sinks to countertops and stainless steel taps to beautiful burnished brass options, there's a lot to consider when it comes to the final touches of your bathroom.
Make sure that whatever you choose aligns with the style of your space and both match and fits your bathtub and shower.
Colour palette:
Whether you opt for fabulous paint effects or bespoke wallpaper, your colour palette will set the mood of your bathroom and determine your overall experience, be it tranquil and calming or fraught with feelings of anxiety.
And remember that while your choices are personal, colour does play a part in whether your room looks sophisticated, quirky, contemporary or vibrant.
At FCI London, our designers are masterminds at helping you select the right combinations, so from complementary to monochromatic, we're here to assist.
4. Ensure that you have enough storage
All top interiors specialists will tell you that bathroom storage is essential and will enhance the convenience and functionality of your space as well as elevate your lifestyle.
From custom built cabinets that store everything from linen, bath towels, hair accessories, laundry and loo rolls to behind-mirror vanities designed to house toiletries, makeup and medicines, no bathroom is complete without it.
As with all storage units, consider every item you wish to accommodate and plan accordingly, making sure that you discard superfluous or seldom-used items first.
This will give you an idea of how many units you need and their ideal configuration. For help on this, ask our professional joinery team. They have decades of experience and will give you as much advice and inspiration as you need.
5. Add furniture and accessories
The final touches in any beautiful bathroom involves your choice of furniture and accessories which will bring creative flair, personality and mood to your aesthetics. Here are some of our favourite ideas:
Mirrors are a wonderful way to bring an illusion of extra space and are also obviously fundamental to your beauty and dressing routine.
Towel rails, especially heated ones, give you an extra storage option and will enhance the luxuriousness of your experience.
Rugs are exactly where you need your feet to land when climbing out of a lovely hot shower and will also bring in a design element that has the capacity to tie your space together.
Plants and flowers, in keeping with all the latest biophilic trends, will establish that all-important connection with nature and help promote calm and wellness.
Scented candles will add a romantic feel and bring in a touch of aromatherapy to ease the soul.
With so many options to choose from, the world is really your oyster here, so give it some careful thought and make sure that everything you select is in keeping with a common theme.
In conclusion
If you're looking for all the latest advice, take a peek at our guide to all the hottest new bathroom trends in 2023.
At FCI London, we have our finger on the pulse when it comes to anything to do with interior design and will be able to help you make decisions that will turn any room in your house into a masterpiece.
Pop in and see us today because, no matter your project, we're ready to get the ball rolling.